Setting up a creative space welcomes art and a healthy practice in your home every day.
Put yourself first and you will be more available for others.   Just a few moments throughout the day will add creativity and color to your life as you increase your mental, emotional and personal well being.   Art is a health inducing habit.  You will feel more generous and gracious as others ask for your time and attention.
Looking at art you have created yourself is empowering.  You are the decision maker for the choices in each work.  The colors, lines and textures you put into a work of art are based on what is important to you.
Setting up a space to work is key to ensuring you will have fun and be playful instead of waiting for the right time.  Set up a space to work that is visible, convenient, inviting, and inspiring.  When you walk past this space, you will be inclined to take a minute or two for creativity.  You will find an excuse to spend just 30 seconds, each time you walk past your welcoming  art space.  A little creativity at a time will build to something substantial and rewarding.
A creative space can be anywhere
Choose a central location or a wall you walk by frequently.  I am in the kitchen more than any other room in the house so there is the potential for me to work there more than any other place.  I have a set of watercolors, watercolor paper, brushes and a jar of water on my favorite ceramic tray.   Keep your set up simple.  Place your art tray on a beautiful piece of cloth, use one of your favorite cups to rinse your brush in.  Make it inviting and special because you really are creating a very unique place in which you are engaged with your own desires, choices and creativity.
Go on an art trip when ever you get in the car
I keep a large plastic bag with watercolors, paper, pencil, brush and small container for water in a travel tote bag by the front door.  This reminds me that I can choose to do art anywhere I am going at any time.  Parking lots, appointments, playgrounds are all opportunities to turn bla into aha!
The lessons on my blog are ideas in art that anyone can do.  They are designed to be simple but rich, fun activities geared toward the non-"artist" as well as the seasoned artist.  Art is a doable and viable practice for anyone. Lessons can be for children, grandparents, adults of all kinds.  Art is a safe way to express our feelings, share our thoughts and ideas and connect with others.
Celebrate the ordinary things you do each day
Make the things you do every day a ceremony.  Create a grocery list from watercolors, spelling the words with color.  Add a few designs so when you shop you can read from your own awesome and artful list.  It will elevate shopping to a new level of appreciation.
Remind yourself of the things you are grateful for, record your favorite inspirational passages from your favorite spiritual teachers.  Write encouraging words adorned with colorful designs.
Walls as easels
Hang a large piece of paper on a wall in a well used hallway, by your bed or another well traveled area like right next to the front door.  Make available a pencil, pen, or any other marking device near the paper.  Each time you walk past the paper make a mark. Find ways to make a line differently each time.
Creative space is for doing things a little off beat.  With the paper on a wall, use your opposite hand, use your mouth to hold the crayon, close your eyes, etc.  If you have children make a creative space for them too.  Your paper can be higher up and put theirs below yours.  Be sure to remind them not to draw on the wall.  Add tape around the border to remind them when to stop, or curl the edges. Use large paper because it's more fun and you will have more room to move.
Committing to creativity means making a time each day when you agree to show up.  Everyday at 7:30 a.m.  I go to my art space and spend  5 minutes looking out the window and drawing what I see, or what I'm thinking about.
For the rest of the day I can say "I made art".  Now that my paper is on the wall and paints on the counter top I am a lot more creative.  I generate ideas and feel better with easy access to materials.  Color and ideas come and go freely and I don't censor.
The easiest time to commit to working on anything for your heart is when you first wake up and the last thing before retiring.  Even if you wake up and just draw a heart, a smiley face, a flower, a bird.  You have gotten your creative intention stated before your feet hit the floor.  Write a word or sentence with each drawing and it helps solidify intentions for the day.  Gratitude words help us to sleep better.
Setting up creativity space ensures the opportunity to make art gets results.  Art can be as simple as a scribble and if you think that's too childish consider the artist Cy Twombly whose scribble art sells for as much as 70 million.   Mark making can be cathartic as well as masterful.
Joan Mitchell painted from her feelings and memories  making lines, scribbles and non-descriptive shapes.  She was a pioneer expressionist artist and her work is full of emotion.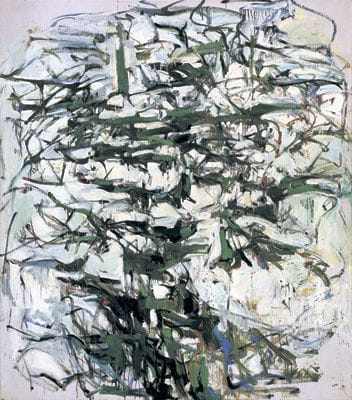 Everyone can make art, you don't have to aspire to be a great artist.  I can paint a realistic portrait, animal or flower.  I have paintings that have taken me weeks to complete.  My greatest joy, however is playing with materials and working spontaneously.  I love to teach because I have to come up with lessons people can accomplish in a short amount of time and feel good about what they have made.   My most fulfilling art is very simple.  Yours can be too.
I made the drawing below just before leaving the house the other day.  I was not feeling like the woman in this picture, however after drawing a happy person, I too felt like my drawing for the rest of the day.
I invite you to be an artist with whatever medium speaks to you first.  Play and try it out and if it calls you to take a class or get more involved in some way, For now, set up for creativity  with some drawing and painting supplies on hand and see if you don't start smiling just a little more and feeling your heart sooth a bit.  Being creative helps you focus on the positive and possibilities that are within you.
All the best to you that a creative life has to offer,
Jean Frank Stark